I have been attending Veritas Colligate Academy since the first grade, but I never really understood what people meant when they asked about the school's "family atmosphere." I always thought Veritas was just another school where everyone was friendly and supportive. But I finally understood the "family atmosphere" on the night of the tornado last Spring.
Our school play last year was The Wizard of Oz, and when the lead cast gathered for our final practice, we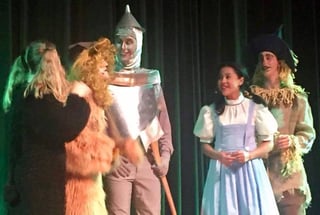 discussed any concerns before transitioning to the theater for dress rehearsals.
Suddenly, all of our phones buzzed with alert messages, and the Cowardly Lion said, "It says to take shelter now! A tornado has struck in the area." We missed the irony of a tornado and The Wizard of Oz as our play director rushed us to shelter.
Once in safety, I held the hands of my friends who were next to me. I looked at them, and the song Holy Spirit popped in my head, so I started to sing. The others joined in.
Later, we learned that two tornados had struck near our school, one hit an apartment complex a couple miles away and the other hit a church a mile away.
Riding home that evening, we passed the church, and I was shocked at the destroyed building and debris in the fields. I have never felt more blessed than when I saw the damage.
Ever since that day, I have felt even more close to my family of friends at school. It was definitely a night to remember.
Now whenever someone asks me about the family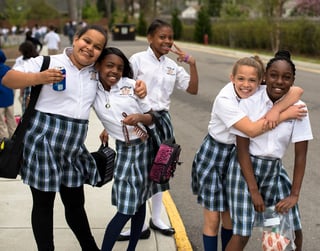 atmosphere, I will always tell them that in a crisis situation I will know my family will be with me. That is the difference that a family atmosphere makes, always knowing that there is someone there to support you. They will keep you safe and be the friend who will sit and listen to you, or lend a shoulder to catch all of your tears.
Summer is over, but I am excited to be reunited with my family at Veritas, and I am excited to welcome news students who are transitioning to Veritas.