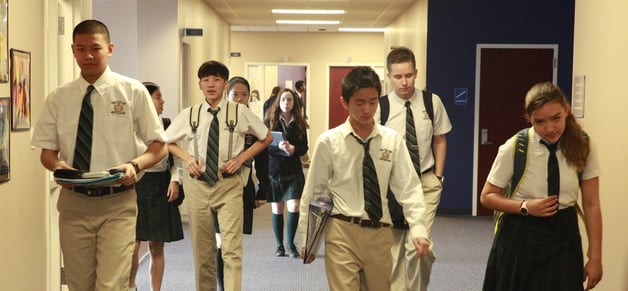 For a teenager, transferring schools can be difficult. The transition can be especially intimidating when going from a public school to a private school, but the people at Veritas Collegiate Academy made the transition easy!
I remember my first time walking into Veritas. It was very quiet, and no one was in the hallway. My parents and I were escorted to the Upper School Director's office. We chatted about the school for a bit, then I was sent outside while the adults spoke.
I was perfectly fine sitting alone until a group of students approached and began talking nearby. At that point, I felt completely awkward and out of place. I mean the students had never seen me before, and there I was sitting alone, feeling strange in this new environment.
Soon I discovered that there was no need to feel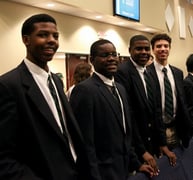 that way, as a few of the students came over and kindly introduced themselves to me. They were so open and polite, and I was amazed by the way in which they conducted themselves. I immediately knew that I wanted to be a part of this school.
After we left the school, I was thrilled to learn that my brothers and I would be attending Veritas. At the time, my younger brother and I attended public school, and my older brother was homeschooled. Of course, it was hard for us to say goodbye to our friends and teachers at our previous school, but the staff at Veritas made us feel so warm and welcome.
From the beginning, they were always there to help, from telling us where a class was held to reviewing material that we had not been taught at our previous school.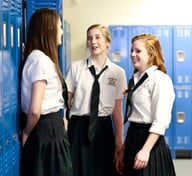 After attending Veritas for a few years, I fully appreciate that I can look to my teachers for guidance, whether it is related to school, or perhaps relevant to something happening at home. The teachers and staff are so open and honest and are truly there to help you succeed in both school and in life.
If you or your family are worried or nervous about attending Veritas, please don't be! We will help you make the transition as smooth as possible. We are here to help and answer any questions that you may have.
I am so happy to be at Veritas as a high school student. You will be thrilled being in a small school. Both the students and the faculty at a private, faith-based school will make the adjustment process so smooth. Please come visit us and see the truth for yourself!